Regular price
Sale price
$56.00
Unit price
per
Sale
Sold out
You've never had jackfruit like this before! We harvested sweet, juicy jackfruit at peak ripeness and turned it into an ultra crunchy chip! Slightly sweet with a savory finish, we're letting jackfruit's natural flavors shine in its mouthwatering glory. 
Each bag contains only 170 calories, 0 trans fat, 2g protein, 25% of daily vitamin C and 15% of daily potassium intake.
Share
View full details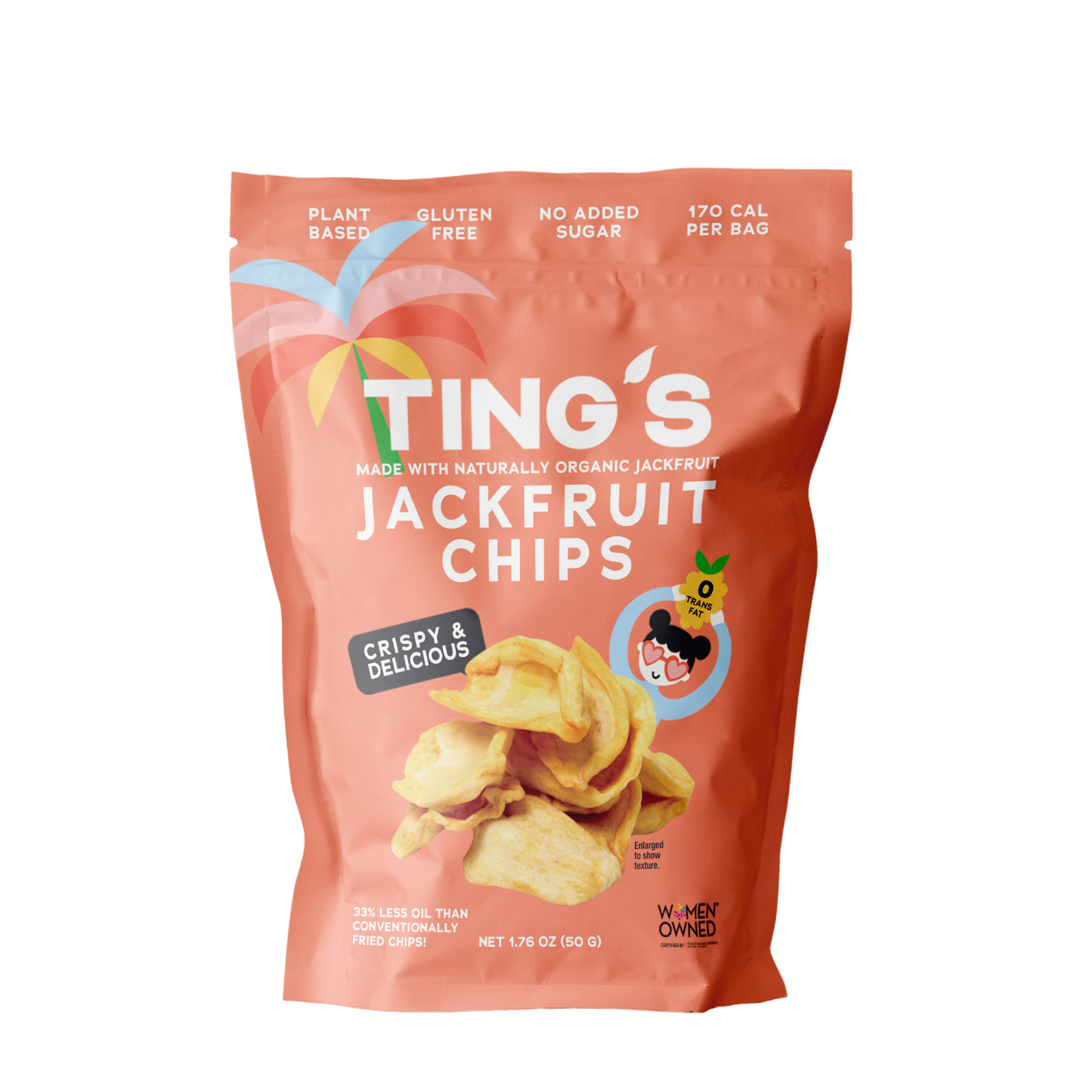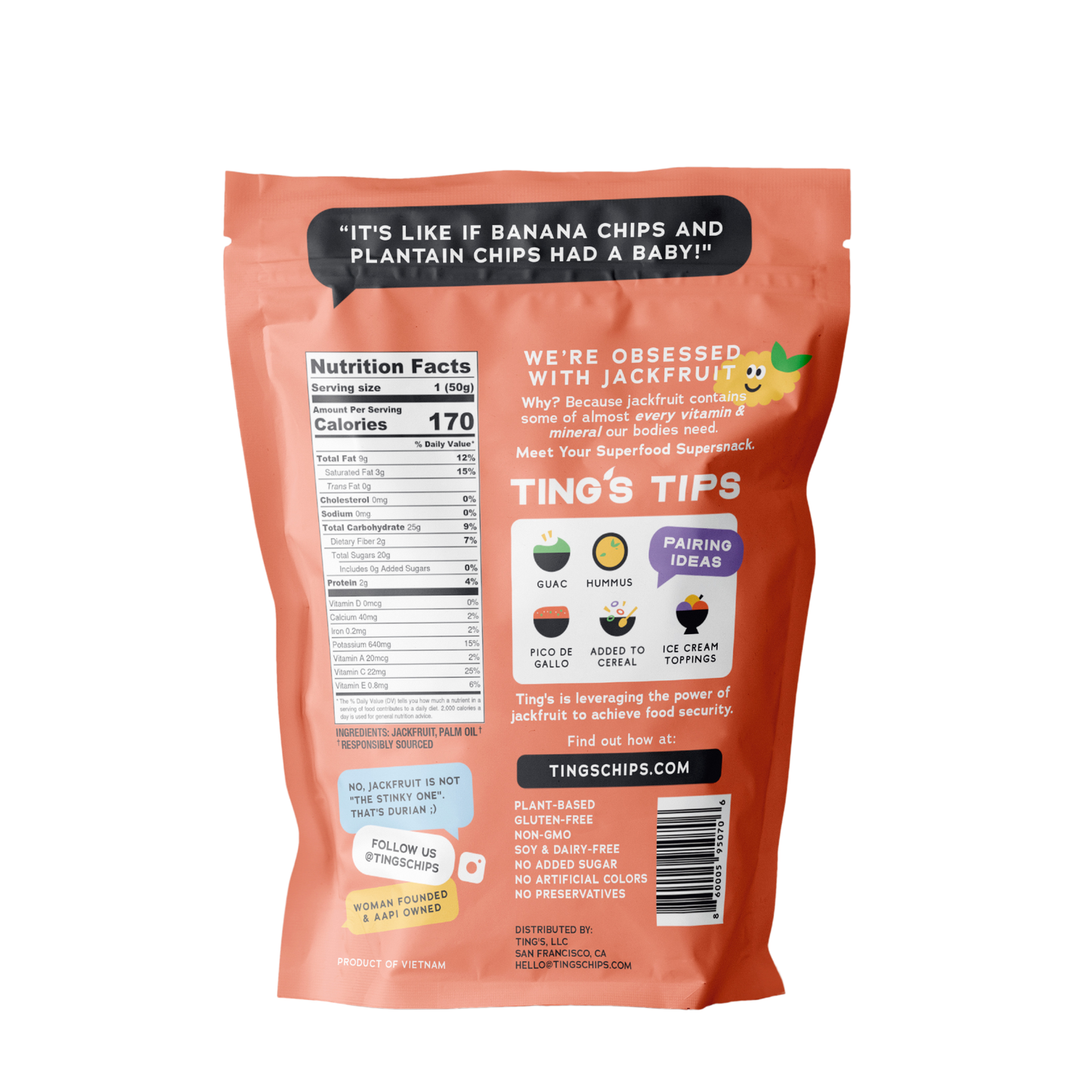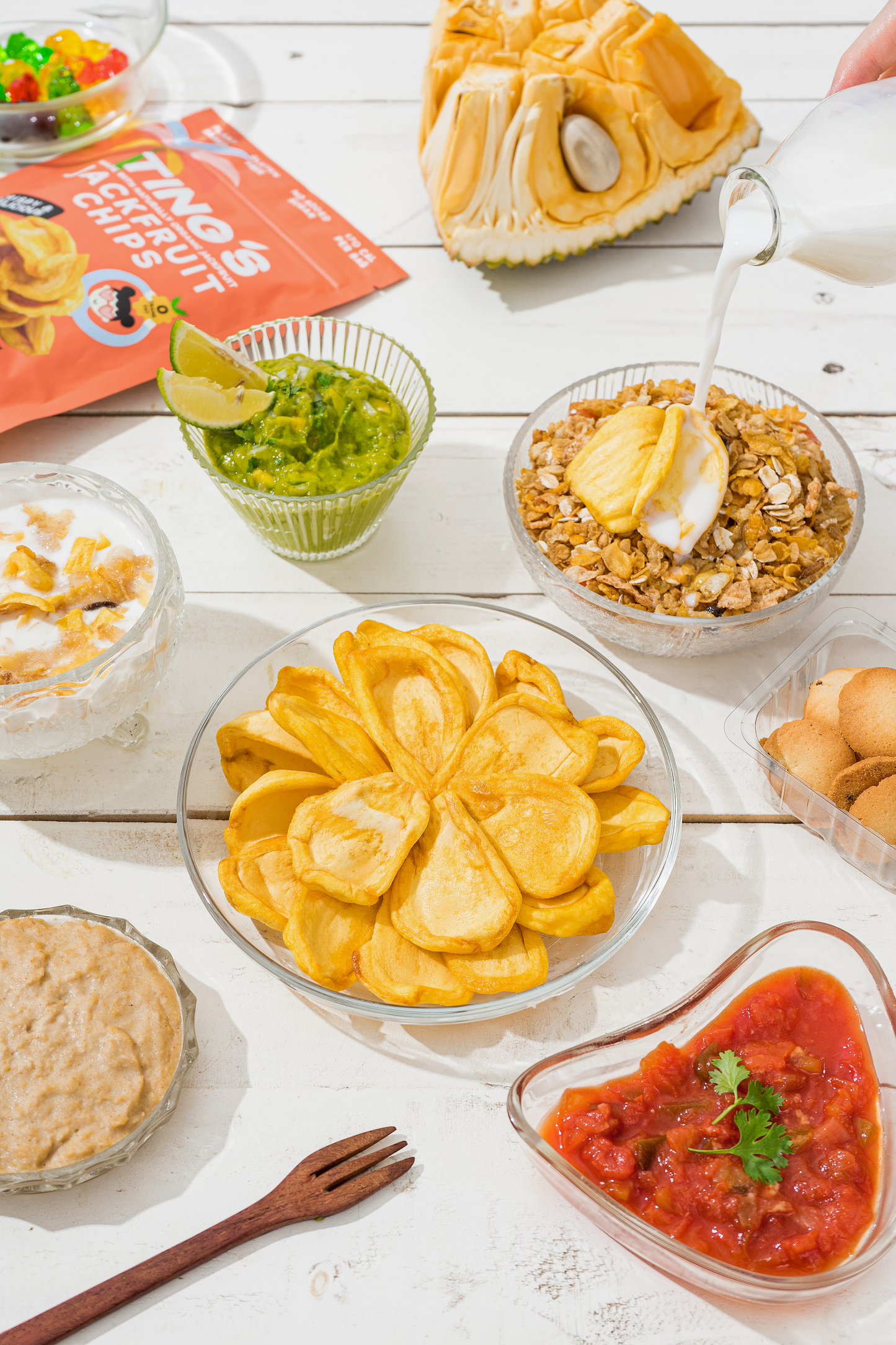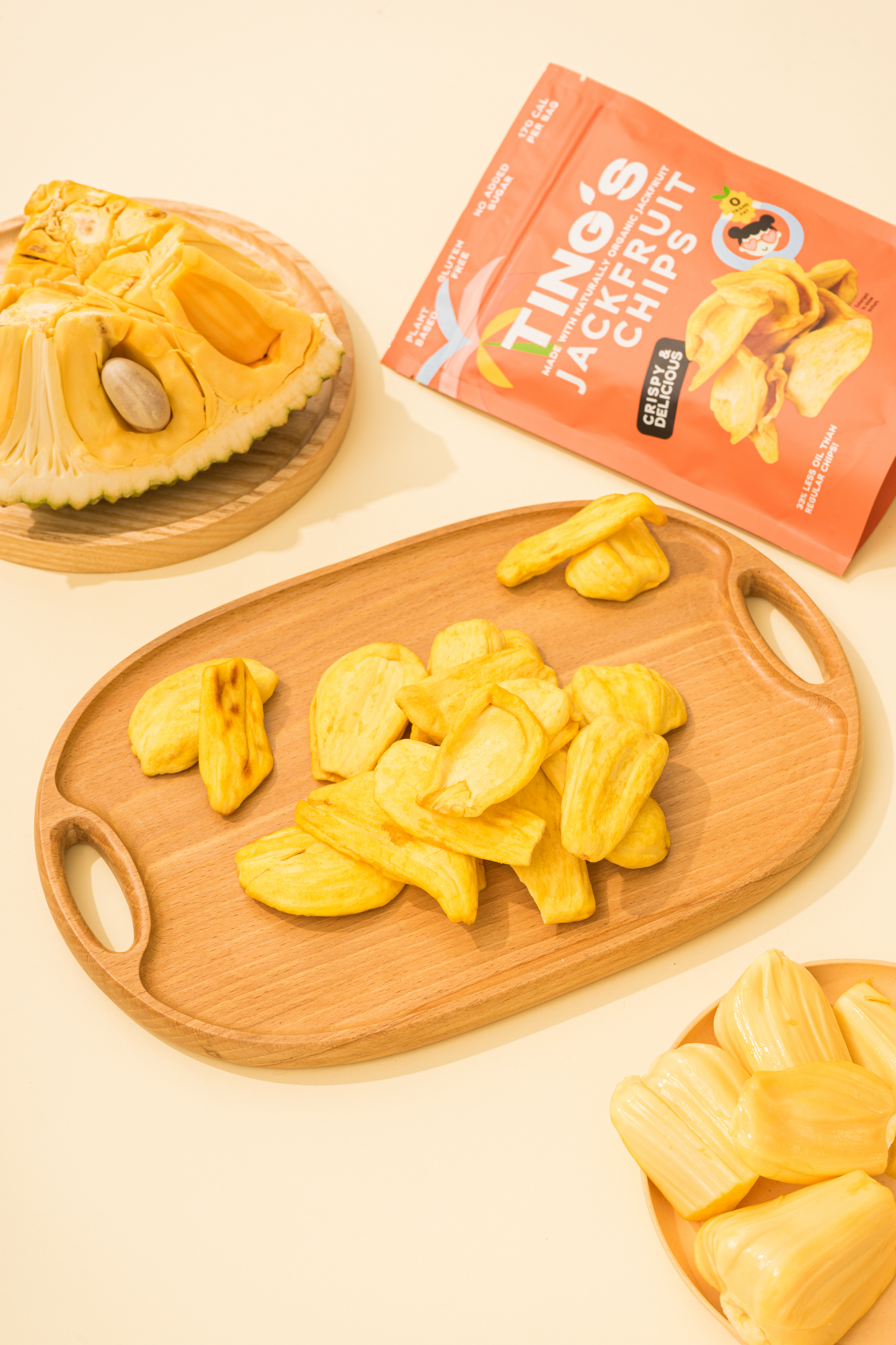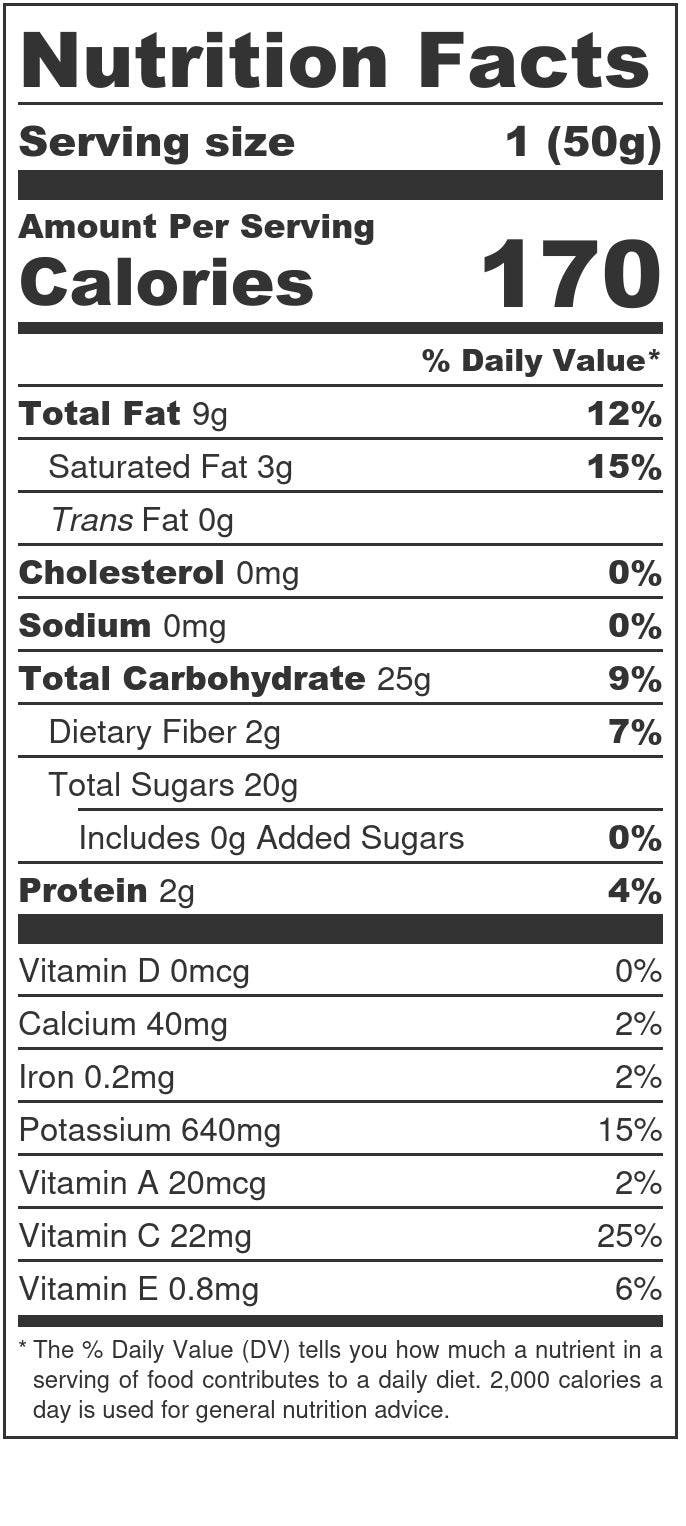 FAQs
ARE THESE REALLY MADE WITH ONLY 2 INGREDIENTS?

YES. Our jackfruit chips are made with two real ingredients: ripe jackfruit and a touch of palm oil (RSPO-certified / responsibly-sourced), and nothing else.
BUT WHERE DOES THE SWEETNESS COME FROM?

The natural sweetness (fructose) of a ripe, delicious jackfruit! There is absolutely ZERO added sugar, artificial ingredients or "natural flavors". We owe it all to the harvest!
WHAT IS THIS MAGICAL FLAVOR?

The general consensus is that our jackfruit chips taste like a combination of banana and apple chips! Mildly sweet and tropical with a thick, airy crunch.
SO HOW DO I EAT THIS STUFF?

Right out of the bag! They're incredibly satisfying on their own especially if you're a jackfruit chip purist.

BUT here are also some phenomenal pairing tips:

Dip them in guac, pico de gallo, hummus, or peanut butter!
For a sweet twist: crumble it on top of yogurt and ice cream for a crunchy pop of flavor!
Our house favorite? Crumbled into milk + cereal! (Special K and oat milk 🤌)
WHAT'S THE NUTRITIONAL CONTENT?

Each bag contains 2g of fiber, 2g of protein, and lots of potassium and vitamin C! Full nutritional content can be found in the product photos.
ARE TING'S JACKFRUIT CHIPS GLUTEN/ALLERGEN-FREE AND/OR VEGAN?

Yes! Our chips contain just jackfruit and a touch of palm oil (4% oil content), is 100% plant-based / vegan, and are free of all Top 8 Allergens (milk, eggs, fish, Crustacean shellfish, tree nuts, peanuts, wheat, and soybeans).
WHERE DOES YOUR JACKFRUIT COME FROM?

We work with smallholder jackfruit farms in the Dong Nai province of Vietnam! Jackfruit grows in tropical and mid-tropic climates around the world in places close to the equator and south Vietnam is a perfect habitat for jackfruit trees to thrive!
HOW LONG DO YOUR CHIPS STAY FRESH?

We recommend eating them as soon as possible for optimal crunch! Otherwise they have a 1-year shelf life from the manufacture date.
Amazing
Easily can eat several bags in one sitting they're that delicious
Where have these been all my life?
I love jackfruit and I' m so glad they now come in chip form! These are surprisingly and incredibly crispy but still retain that deep jackfruit flavor!!! They are simply amazing, I can easily eat 3 bags at once!
Favorite snack for busy days
I love the amazing flavor, awesome crunch and nutrition too ! Perfect for travels and hikes ! Bravo !
Finally a Refreshing Snack!
I was shocked they tasted so good. Finally a fun, innovative fruit snack that taste great with good benefits! I can't wait to see them every where! Let's Go TING's....100% Approved!
Love these! New Favorite.
I had had jackfruit before but never jackfruit chips. Loved the chips so much more than I expected to! I loved the texture, flavor, how light they were. I went through all my bags so quickly- it was the perfect afternoon pick me up or treat while I was cooking dinner. 10/10 I want to eat these all the time now.